SEO nowadays is becoming a hot commodity. Everyone is now doing SEO for gaining better improvement results on SERPs. Even though there are some businesses who are struggling to gain quality SEO leads.
How to find out prospective candidates and turn them into loyal clients? The answer is here. SEO now makes your life easier, by introducing an advanced method of gaining leads.
With the help of an embeddable SEO Audit Widget, you can scale up your business performance much faster. If you are not aware of what an SEO audit Widget actually is. Let's start by learning the definition of it.
What is SEO Audit Widget?
SEO Audit Widget also known as SEO LeadGen Widget. It comes with an embeddable solution for your website.
It allows you to easily embed the site audit tool on your website. And that helps to capture high-quality leads and provide an in-depth SEO Audit report to users without leaving your site. Here you can white-labeled the widget form as per your branding needs. It enables creating such an SEO audit widget form that completely supports your SEO Lead Generation process.
What is an Embed SEO Audit Widget on the Website?
Embed SEO Audit Widget on the website means you can create an SEO Audit Widget form using SEO Audit Software's easy-to-use user interface without having any technical knowledge. Here you can create a custom widget based on your user perspective. After changing the look and feel of the widget form, now time to copy the widget code. It's like a Google Analytics script. After pasting that code on the website HTML before the end of the body tag, you will have your own branded lead generation widget form.
Now if you need any help changing the outlook of the widget form according to your website design, contact our support engineering team.
We will help you to change the total look of your Lead Generation Widget Form.
How can you be benefitted from an Embedded SEO Audit widget?
For a marketing agency, an embeddable SEO Audit form is a great lead generation instrument. It works by running unlimited free SEO audits and collecting leads. You can place it on any page of your website in order to convert visitors into customers.
Instead of investing thousands of dollars into paid marketing campaigns, now you can easily generate high-quality leads organically using your own platform.
The benefits of having an SEO Audit Widget are:
Generate SEO leads even when you are sleeping:
An SEO Audit Widget works 24/7, 365 days as your marketing tool. If you are serving SEO services then a branded Free SEO Audit button will work like magic for your business. With a personalized lead form, you can acquire new contacts, even if you are not available online. Your visitor can use the audit form as many times as they want and at any time. No need to do anything manually from your end.
Easy to pitch your SEO Services:
With the help of the Embedded SEO Audit Form, now you can persuade a lead on the spot. After placing the SEO Audit Widget button on your site, visitors will start clicking that audit button and share their details with you. As a result, you will get a list of interested SEO leads for your business. And they will get the report in a few seconds. After seeing the SEO reports they will definitely be more interested to take your SEO services to keep their site in high rankings.
High Conversion rate:
With the SEO Audit widget, a high conversion rate will be a constant pattern for your business. It helps to gain qualified leads which have a higher chance to convert into paying customers.
Based on a recent study,
A contact form has a 3.5% industry average conversion rate
Request a Quote form has a 3% industry average conversion rate
Download Whitepaper or eBook has a 4% industry average conversion rate
Book an appointment has a 7.5% Industry average conversion rate
Instant SEO Report has a 22% Industry average conversion rate
Based on the above analysis, the Instant SEO report widget form has a higher conversion rate than any other lead magnets.
With the SEO report you provide, your visitors will be looking for a solution for the issue raised in the report. Hence they will hire you as their SEO consultant.
Make it your own branded one:
You don't own any SEO tools. Don't worry. SEO Audit Widget lets you feel like you own it. With the branding setting, you can customize the widget form and reflect your company's strength on it.
Not only in widget form you can white-labeled the whole SEO report with your branded feel. You can even control what contact details you want from your lead. Add additional fields if you want. It's the best one-stop lead generation solution for you and your customers to connect.
Spam free Lead Generation Technique:
Compared to old-school lead generation techniques, such as cold calls, direct messages via email or social media often bring spammy info. Not targeted at all.
But here SEO Audit widget you can acquire the most qualified leads with their valuable information. Also can get insights about their website performance in the easy-to-read reports which you can use later to improve their performance.
Completely Automated Lead generation process:
Now you can save a lot of time as you don't have to do literally anything to generate leads. Once you complete embedding the audit form, your work is done here.
That widget form is made in such a way that it easily gets noticed by potential leads. It automatically runs everything, you don't need to input anything.
When users use it for getting audit reports they will instantly be impressed by your service. And they will assign you to future SEO projects.
Get Instant Lead Notification:
SEO Audit Widget allows you to get instant notification when any lead comes, straight to the 'My Leads' page. There you can view the lead details along with their audit report. You can even restore any leads which recently moved to the trash section.
Who is qualified for acquiring SEO Audit Widget service?
SEO Entrepreneur
Stop paying those freelance sites who are saying to get you qualified leads. Rather focus on SEO Audit Widget tools to gain more qualified leads from your website's organic traffic. And make them your paying customer.
Marketing Agency
Those days are gone by when marketers use different marketing platforms to acquire leads. In this new digital era, start focusing on the SEO Audit widget. You can automate the lead generation service and easily manage all your leads in one platform.
Web designer
Gain more web design clients by allowing them to run free audits on their website. That way you are helping them to find out weak points of their site. And at the same time allowing yourself to help them fix those issues.
SEO Professional
Gain more professional benefit by using SEO Audit Widget service. No more paid campaign or guest blogging. Now gain more qualified at the same time organic leads with automatic lead generation technique. The embedded lead generation widget form also helps to increase your website's popularity among the targeted audience.

How does the Embeddable SEO Audit Widget work?
Old lead generation methods only give you a hard time of being noticed by your potential audience. Such a method lets you only vanish the lead rather than gaining it.
Now if your website allows the potential audience to run a free SEO audit it will easily catch their eyes.
Using the SEO Lead Generation tool, when you place the SEO Audit widget form on your website, your website visitors definitely click the CTA button and provide their details in exchange for a free SEO analysis report.
Here your potential client will be benefited by getting a well-described SEO report. And you'll get a qualified lead for your business with whom you can discuss that SEO issue and help them to fix those.
Below sharing the step-by-step approach to embed the 'SEO Audit Widget' on your website.

Steps of creating SEO Audit Widget
By embedding a white-label SEO Audit tool you are generating more high-quality leads and revenue for your company. To embed it requires a couple of clicks. Instead of building an SEO tool from scratch, here you are getting the free embedding option.
Step 1: Sign up
Before starting up with SEO Audit Widget, first, sign up for the SEO Audit Software. The signing-up procedure is so simple. You can log in directly from your Google account. Later you can update your username and password from the My Profile page. And use it for later login procedures.
Here you are signing up for the 14-day free trial version. No credit card information is required for signing up.
After the free trial is over, you can move to the paid version of this software. There are three software packages available. Starter (for freelancers), Bronze (for the SEO team), and Silver (for the agency). The paid version starts at only $9 per month.
Check out the pricing page for more details.
Step 2: SEO Software Dashboard
Now you are entering into https://app.seoaudit.software/. Here you can easily access all the SEO Audit Software features.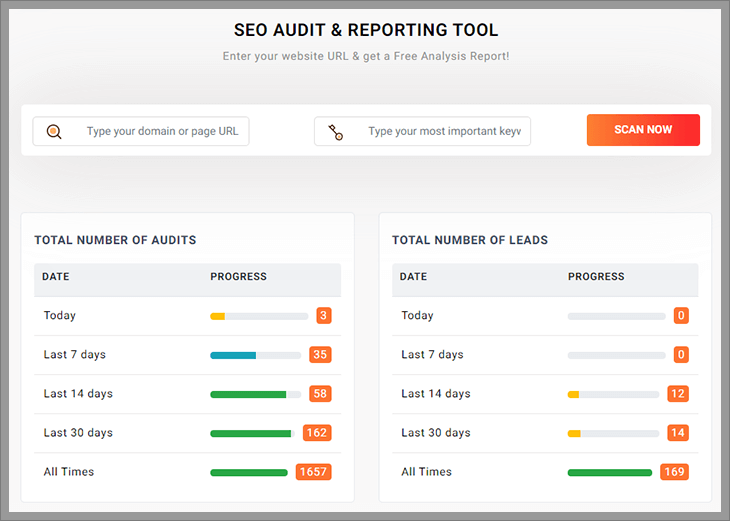 Source: A glimpse of SEO Audit Software Dashboard
Step 3: Select the Widget Form
In the Generate Lead section, you will find the 'Create Widget' module. Here you can easily create and manage your SEO Audit Widget form.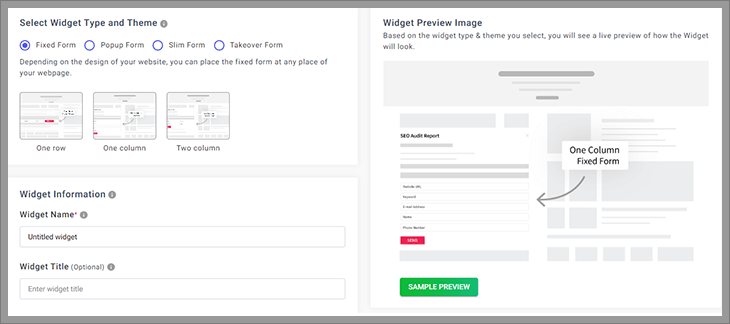 Source: A part of SEO Audit Widget Dashboard
In this part, you can choose the widget theme and type to give your widget form a customized look.
Select widget type and theme:

There are four form options to choose from.

Fixed Form:

You can place this form anywhere on the website. You can display this form in one row, one column, or in two columns.

Image: Appearance of Fixed Widget Form

Popup Form:

You can set the timeframe for the Popup form to appear in front of your website audience. You can also place it anywhere on the website. Left, right, or center.

Image: Appearance of Popup Widget Form

Slim Form:

This type of form always places horizontally on your webpage. You can either place it at the top or bottom of your webpage.

Image: Appearance of Slim Widget Form on the top

Takeover Form:

This form shows once per session or page view. That is, you can display this form on exit, scroll, or after scrolling.

Image: Appearance of Takeover Widget Form

Widget Information

After picking the form type and theme, you can now add your form's information to give it a more personalized look. You can leave them blank if you don't want any information to appear. You can include the following information in the form.

Widget Name
Widget Title
Widget Description
Widget HTML Content
Report Form Submit Action
Report Close & Redirect Button Action
Report Close Button Text
Step 4: Customize the Form Field
You will find all the necessary fields to customize the widget form as per your branding needs. You can customize the form using the following option: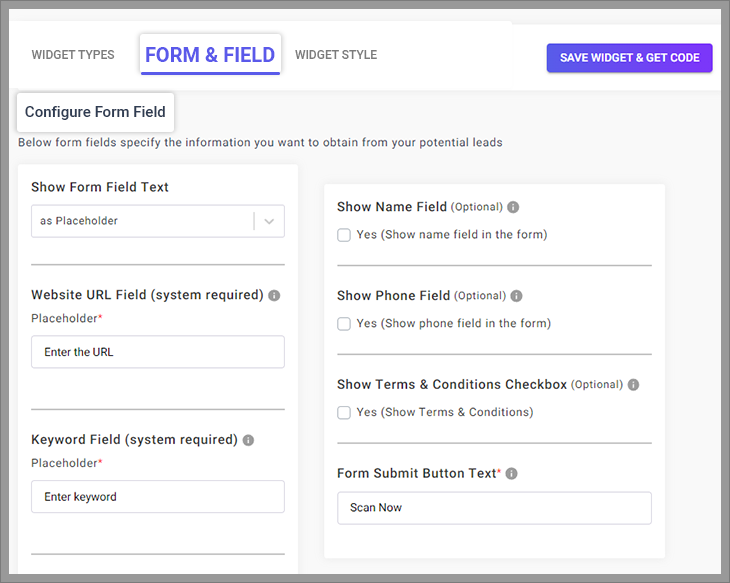 The form boxes below will allow you to provide the information you wish to collect from your potential leads. You can also modify them according to your preferences.
Show Form Field Text As
Website URL Field
Keyword Field
Email Field
Name Field
Phone Field
Terms & Conditions Checkbox
Form Submit Button Text
Step 5: Customize the Widget Style
In this step, you can experiment with the style of your widget form. There are numerous choices for changing the overall appearance of your widget form.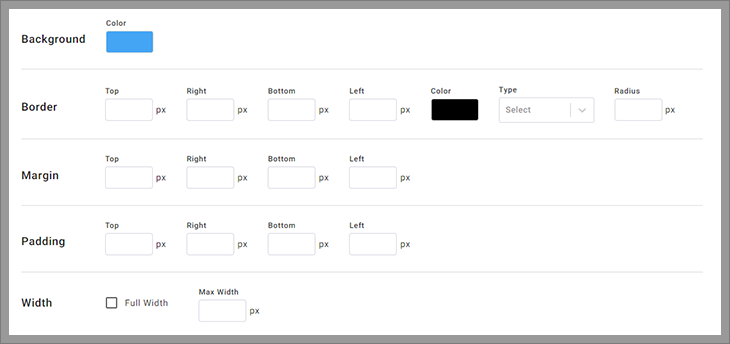 You can change the color, radius, border, and text color for every segment of your widget form. Just be careful not to over-style, as this will result in inline CSS. Alternatively, you can leave the form style in the default theme. Simply click the support button on this software to alter the default theme to match your branding colors.
Main Form Style
Form Body Style
Form Title Style
Form Description Style
Form Terms & Conditions Text Style
Input Field Style
Input Field Style
Input Field Label Text Style
Input Field Placeholder Text Style
Input Error Message Style
Form Close Button Style
Report Close or Redirect Button Style
Form Submit Button Style
Step 6: Generate a Widget
After you are done customizing the widget form to your heart's desire, now it's time to generate the code.

Image: Generate Widget code
By clicking the 'Save Widget and generate code' button, you will get your unique code to embed on your website.
Step 7: Embed the SEO Audit Widget by copying the widget code

Image: Showing copy embed code
After clicking the 'Save Widget and Generate Code' button you will be sent to the widget list section. Here click the 'view code' button to see the embeddable code of your customized widget.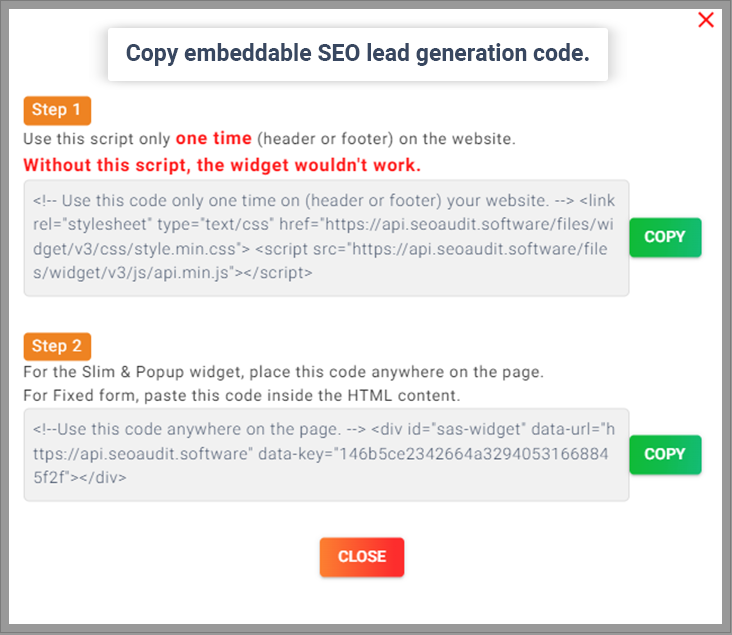 Follow the steps mentioned here.
Now it's time to embed the widget code on the website. There are three integration options available,
You can embed the widget form in your whole website
You can integrate the widget code in one selected or multiple pages
You can embed multiple widget forms on one single page.
After deciding what integration option your website needs, add those small snippet codes to your website's HTML before the end of the body tag. You will get the Audit widget form in your branded nature. No technical or programming skills are required here.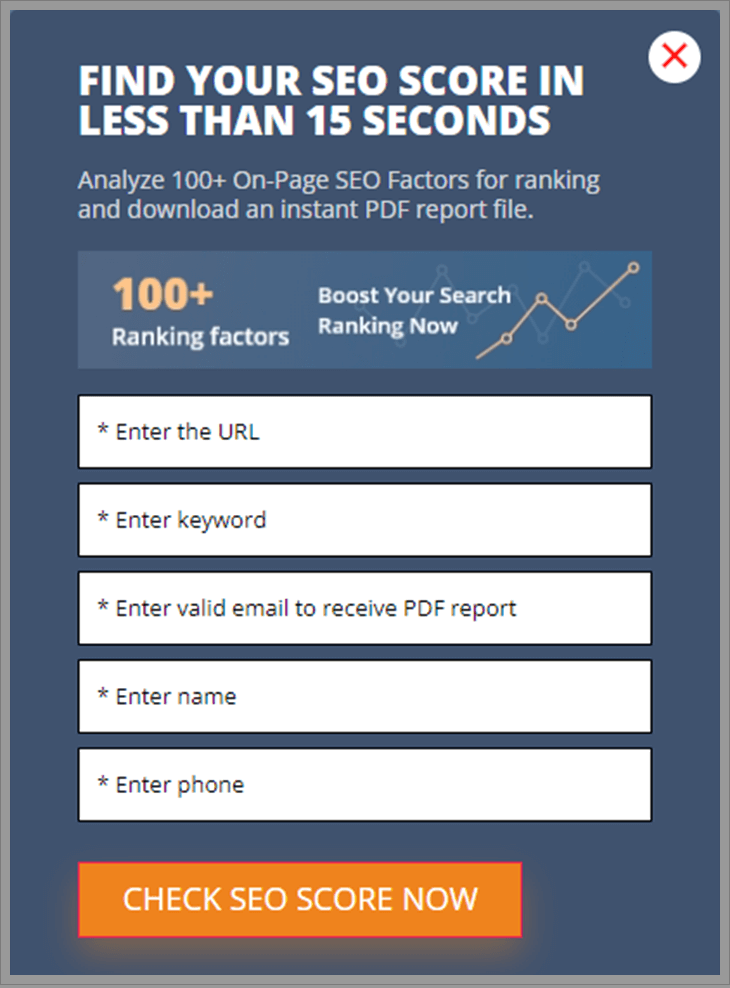 Image: Embedded Widget Form outlook
For any kind of integration difficulty, contact the SEO Audit Software support engineering team.
Step 8: All Leads
Now when any visitor fill-up the form to generate an audit report, you will instantly get a lead notification email. All the generated leads will be stored in the 'My Leads' section. There you will get the lead details as well as their generated audit report.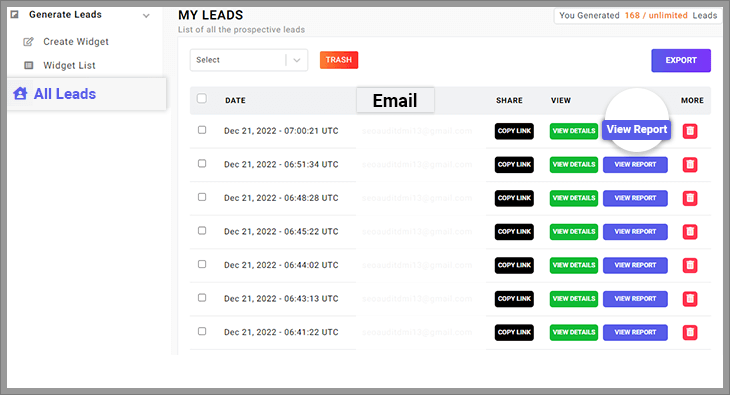 Image: All Leads page
There you can also take necessary action like either 'Delete Permanently' or 'Move to trash' any lead. As a result, your 'All Lead' detail page will be free from any kind of spammy information. View the below screenshot for a better understanding.

Step 9: SEO Audit Report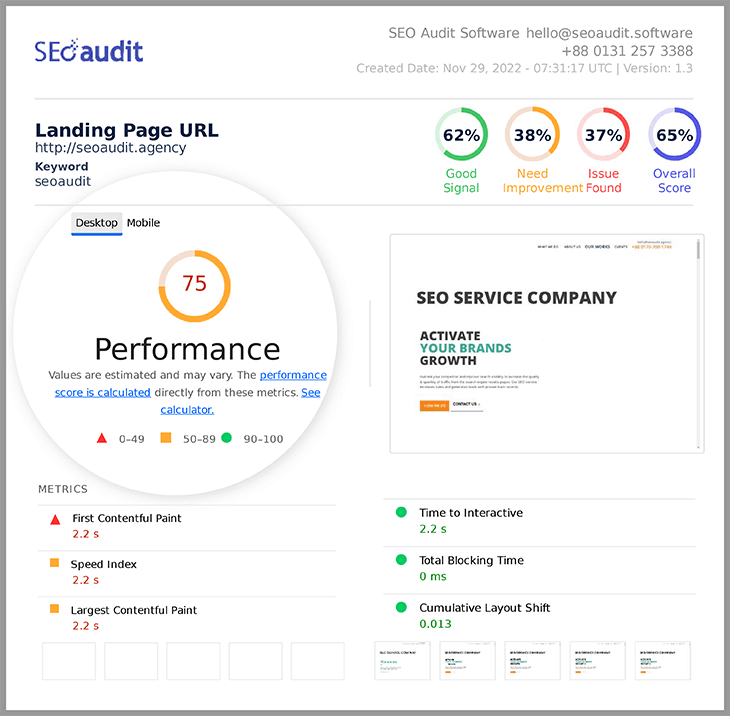 Image: Advanced SEO Audit Report
When a user fills up your widget form, they can generate a detailed audit report within a few seconds. They can view the report directly on your website. The embeddable SEO Audit Widget allows users to download the PDF SEO Report.
A user will get a detailed analysis by following SEO parameters:
Website PageSpeed for Desktop and Mobile: It shows your website page performance with valuable analytics for both Desktop and Mobile.

SEO Content Readability Check: Check the content readability score from an SEO perspective.
Analyze website On-page elements, such as:

HTTP Request Analysis: Analysis of the total HTTP request of the website; containing,

Images Request
Javascript Request
HTML Request
CSS Request
Other Request

Also, find out other technical issues and critical areas of the site.

On-Page SEO Statistics: Highlights of critical on-page issues that can otherwise hamper the website's overall performance. Issues as such:

Javascript code
Frameset tag
Canonical URL
Disallow Directive
Favicon
Robots.txt file
'noindex' meta tag
'nofollow' meta tag
Meta Refresh tag
Nested tables
URL redirection issue
Deprecated tags

Mobile usability test: Examine the page to see if it adheres to the SEO mobile usability guidelines.

Website URL: Display a complete health report of the website URL; including URL length, keywords in the URL, and so on.

Title & Description Tag: Shows the total title & description tag health reports, such as

Length
Keywords
Total Character in the title and meta text

Image Analysis & List: Provide the sites' overall image analysis reports including the image list with the Alt text.

H1, H2, H3,…..H6 tag with Keywords relevancy: Analysis of total health status of the header tags. As well as graphically show the keyword relevancy percentage with the header tags

Identify keyword issues: Shown the total 4, 3, 2, and 1 words used in the website keyword list with the chart. As a result, it can easily analyze whether there is any keyword cannibalization issue or not.

Internal & External Link Analysis: The total number of internal and external links used on the page are also collected. Check to see whether the same links are being used several times and if the links have discernible text.

Technical SEO Report: Not only the On-page SEO report, but the generated SEO audit report also shares a report from the technical side of your website. You will get the analysis report under three important titles.

Warnings
Recommendation
Passed Audit

Under this, you can easily find out what underlying issues your websites are facing and get advice on how to fix those.
To get an idea about how the report will look like: Here view the sample Advanced SEO Audit PDF Report
We are constantly updating our SEO Audit Software. Check out our Software Version History to find all the latest update details. All the updates will be automatically integrated with your embedded tools.
For further customization, we have an SEO report configuration option where you can easily show or hide necessary SEO signals in the report. Check out the 'White Label' section to access this customization option.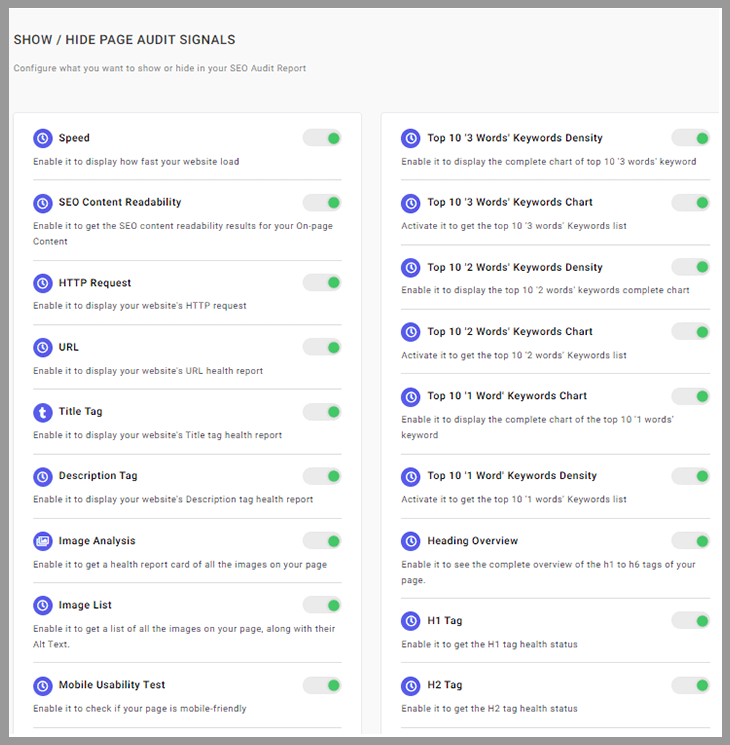 Image: White Label SEO Audit Widget Report
And that's how an SEO Audit Widget works. Here not only you get access to leads' email addresses. But with their audit report, you will get the core info about their website. Such a report not only shows the strength and weaknesses but shares an idea of the type of customers that are attracted to your site.
The user who runs the audit, chances are they are looking for help to improve the performance. And now you can easily promote your services with them based on their details stored on the 'My leads' page. That's how you can build solid leads for your website.
Why consider using SEO Audit Software for creating SEO Audit Widget?
After a brief discussion about the benefit and steps of using SEO Audit Widget. Now it's time for the tools to use to gain that automatic solution. There are numerous SEO tools available in the market providing embedded lead generation solutions. But we are suggesting SEO Audit Software's Lead Generation Solution. Why? Read Ahead!
14 days free trial support

Not a single tool offering completely free branded lead generation support like SEO Audit Software. Here you will get a completely free SEO Audit Widget which you can turn into a branded one instantly. All are free of cost for 14 days.

Lifetime Free Version

Apart from 14 days of free trial benefits, there is also a lifetime free version. Here you can try out the software's basic features. And if you like it you can move to the paid version of the software.

Other benefits


Easy to integrate SEO Audit Widget form

No complicated steps are associated with embedding the SEO Audit Widget form. With a few simple steps, you are able to acquire this widget form (steps mentioned above). Simply copy and paste the embed code into your webpage HTML. The embed code is tested across hundreds of websites and CMS sites. So no harm will be done in the embedding process. It requires only 5 minutes to complete the integration.

Multiple Widget form options

SEO Audit Widget shares multiple form options (discussed above). You can either choose one to embed on the website. Such form options allow you to bring diversity to the form placement of your site.

Show audit report on your own website

Now users can view the report on your website, not any third-party site. SEO Audit Widget gives such a professional and consistent brand experience by opening the report on your own domain. Everything will be securely run over SSL.

Instant notification when a new lead is added

Whenever any lead is added you will be notified by this software via email. So now you can respond instantly to every new lead and take necessary action to turn them into valuable clients.

One way to view all the lead details

All the leads will be stored in the My leads dashboard. You can search and sort out the leads according to your comfort needs. Every action will be run so smoothly, no need to wait for any task to complete.

Multilingual SEO Lead Generation Tool

This highly configurable SEO lead generation tool is now available in 12 different languages. The tool offers multilingual support and is currently fully functional in English, Dutch, Spanish, Italian, French, Portuguese, German, Greek, Swedish, Polish, Norwegian, and Danish. You can, however, edit the widget form in any other language that supports your operating system. For help, please click the 'Support Button'.
Does an embeddable SEO Audit Widget really help in generating quality SEO Leads?
After all the above discussion everything comes to a single question. Does an SEO Audit Widget really work?
SEO is all about generating relevant quality leads for the business. All our SEO efforts are focused on acquiring leads. And here SEO Audit Widget gives us an automatic secure solution to gain leads, with zero spam issues.
With manual SEO lead generation campaigns, you are not 100% assured whether they will bring the expected result. But with SEO Audit Widget you will get that assurance. It helps businesses to capture more website visitors and make their potential leads. This Audit widget is also 100% white-labeled and highly configurable. As a marketing agency, you can easily deploy such a solution into your lead capture strategy.
It also works as an extra revenue stream for your business.
So start making the most of the power of the Embeddable SEO Audit Widget.