Running an agency is hard enough when you don't have a definitive way to earn leads. It becomes even more complicated when you don't have any techniques on your sleeves.
But thanks to today's advanced technology. You'll find so many amazing Lead Generation Tools in the market. That is gonna sort you out in this matter.
Today's SEO industry is competitive. And that's not only for your region, but that's also happening globally. Not only your SERPs competitors. But chances are you have thousands of the same industry competitors who are competing for the same piece of the pie.
But good news. You got us (not advertising though!).
But seriously our Lead Generation Tool is specifically made for you to resolve this problem. I'll explain the details below.
I'll also describe some tried & tested strategies that you can use to generate high-quality leads. The steps are pretty straightforward. First I'll start with the basics. Then I'll walk you through every proven technique. So let's begin.


What is SEO Lead Generation?
SEO or Search Engine Optimization helps to increase your website traffic. And Lead Generation is focused on increasing the number of clients for your business. And when the two elements are combined, it helps you to convert that targeted traffic into a potential client. In the end, that increases your business profit & overall growth.

What is an SEO Lead?
If you're a business owner, your main target is to sell your service. Now instead of shouting & attracting your leads or prospective clients through some attractive offers. You can easily take the help of SEO.
SEO helps you to optimize your site. So that you can easily show up in front of your targeted customers. Those targeted customers enter your website for buying intentions. Those customers are mainly your SEO leads.

How do you generate SEO Leads?
There are numerous ways you can generate SEO leads for your agency. Such As:


By using SEO Lead Generation Tools.
Creating High-Quality contents to attract your clients.
Optimize your local SEO Strategies.
Guest Blogging.
Usage of Google Adwords.
Download e-Book.
Sign-up for whitepaper & so many.
SEO Lead Generation Tool
PPC, Social Media Marketing, Content Marketing – all of these things are real time consuming & not so budget friendly. For traffic conversions, you need some solid foundations.
Instead of throwing thousands of dollars on other things, let's focus on the real things.
Now you can easily generate more high-quality SEO leads using your own platform.
You don't believe me, do you?
Have you heard about SEO Audit Software?
This SEO software is combined with so many amazing tools. And one of them is the Lead Generation Tool.
It's really hard to get noticed by your SEO clients when you're rushed to cover other important matters. We've proven techniques to bring qualified SEO leads to your business.
When you offer your targeted customers the' Free SEO Audit Report' button using your brand name, those leads will automatically become your potential clients.
The steps are also pretty simple.
Once you sign for free in this software (free trial lasts for 14 days BTW), you'll enter the dashboard. On the left side, you will find a list of featured names. From the list choose "Generate Leads" options.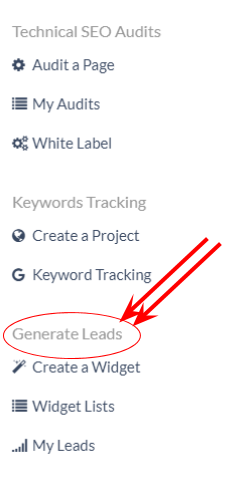 There you will find three options:

Create a Widget:
This option is for creating lead generation widget onto your website. Here you will get multiple options to customize the widget look. And make it like a branded one. Options like:
Widget Title
Widget Form Type – You got three form types to choose from:

Popup Form:

Popup form generally means a graphical user interface area that suddenly appears on the page. Because of its nature, this type of form is ideal for easily attracting new leads. With this software, you can set an auto pop-up time limit. You can add the widget form icon & set the form position manually whether it will popup from bottom right, bottom left, or center.

Slim Form in the top:

Slim form appears on the top where all the fields are set horizontally. This one is a pretty simple & straightforward lead generation form type. This type of form will completely match with your brand aesthetic & doesn't distract your visitors with any kind of animations.
This form will appear as such:

And,


Fixed form:


As the name suggests, this form is fixed in nature. You can easily fix this up on your website's suitable position & collect lead through it. This type of form is clean, contains no distractions, the field title is also easy to understand, and will give your visitor a clear guideline on what to do next.
This form appear as such:
After choosing your desired form type, now you can customize the form field. For Example, if you want to display a name & phone option in the field, you can name the form CTA button, label anything you want.
After that, you'll get an option to choose the CTA button color.
Once done with everything, you can preview how the form looks before clicking the "Save & Generate Widget" button.
Here you'll get your widget script, which you can integrate into your system. And Voilà! You'll get a branded Lead generation "SEO Audit" widget button on your site.

Widget List:

Here you will get a list of widget forms that you've created so far. If you want, you can edit or delete any of the forms here.

My Leads:

Here you will get the list of all the prospective leads that you've been successfully generated. Here you'll find the email address & phone number. That way you'll easily generate email leads with whom you can communicate for making them your permanent customers.

Pretty simple & effective right! Once you embed the tool on our website, you can start offering Free SEO Audits to your visitors. Those Free SEO Audits work as a way to capture leads. When any of your visitors request an audit. This tool will automatically generate a custom branded report for them. That report will contain your brand color & logo. In return, you can capture their contact information.
You don't have to put any extra effort into it. After you set it, you don't have to do anything. This tool will do all the lead generation work for you. When any lead is captured, this tool will notify you.
That is how actually SEO Lead Generation tools work.
One important thing, for 14 days you can generate a free branded widget form. After 14 days it will be back to non-branded. So to keep it your branded one, you can subscribe to any of the plans that SEO Audit Software offers.
Only generating leads is not enough. You have to maintain it properly.
To do so you have to maintain some techniques & follow some guidelines:
Make some research about your leads & their company before reaching out to them.
After doing research, now you can reach out to them through email communication.
While doing email communication, follow these simple steps:

When writing an email, keep the email subject line casual so that doesn't sound like a sales email. It is more like you really care about their problems & try to solve them.
Keep your email body short & simple.
Now, wait for your lead to a response. If not you can send a follow-up email.
There are other SEO lead generation techniques as well for generating leads. If you don't take the help of the SEO lead generation tool (which you should), or either way, you can benefit from the steps below that I already mentioned above.
Create High-Quality Contents:
Producing high-quality blog articles on your blog site can bring high-quality traffic & leads for you. What you have to do is understand the search intent. Also, research your industry competitors, what they are doing for their website & blog content. Look out the content angle, content type, formats they are using. And based on that produce your content. Don't forget to add engaging infographics into the content. After publishing it on your website, share it on all social media platforms. The more targeted people will reach it, the more lead you can generate through it. And most important don't forget to add a clear CTA to your blog article.
Guest Blogging:
Guest blogging is another way to reach out to your targeted audience. It is also called blogger outreach. Try to reach your industry-leading blogsite & make a life-long partnership with them. Once your blog is published to any higher authority site. It will automatically bring more traffic & leads to your website.
Using different Social Media Platforms:
Joining different industry-related events, different Facebook & LinkedIn groups also can help you to reach your audience. By actively participating in those groups & sharing your industry expertise, will help to build a reputation. And, that helps you to get leads.
Those are some of the proven techniques that you can use for generating leads. Generating leads for your agency is not easy. But by using a lead generation tool, you can make that task easier. Start uplift your lead generation game & make more profit for your agency.