You might be searching for concrete solutions for optimizing a website's on-page performance. You already know that On-page optimization is important for your website & content to rank.
And, who doesn't want to rank first on Google? I think Everybody does want that.
So to help you out, we made this article. In this article, you can improve your On-page SEO knowledge. At the same time, can solve all the hindering issues that your site is struggling with.
To gain success in the search engine, you must have to understand the SEO factors.
SEO factors build on three important foundations:
Technical SEO
On-Page SEO
Off-Page SEO
Nowadays people are more focused on off-page SEO, they certainly forget about on-page SEO.
But you have to understand that without on-page SEO, you can't do much only with off-page SEO.
And as Google's ranking factors are ever-changing, it's important that you're up-to-date with your on-page SEO knowledge.
Here I cover up how to do an on-page SEO. And to fix every technical issue related to this. But before starting with the technical part, let's start with the basics.
What is On-page SEO?
On-page SEO is the practice of optimizing your web pages in order to rank higher on SERPs. The main goal of On-page SEO is to gain more organic traffic to your website. On-page SEO helps to build up EAT factors on your website. Here, EAT defines the Expertise, Authoritativeness & Trustworthiness of your website.
Why is On-page SEO important?
There are so many benefits that evolved around On-page SEO. Such as:
Doing On-page SEO means sending positive signals to Google that your website contains the relevant information that users are actually searching for.
It helps to target your audience in a highly effective way.
Increase the number of leads & possibility of cross sell of your business.
It helps to lure your visitors so that they keep coming back to your website. And eventually that increases your sales.
It helps to enhance your brand awareness & trustworthiness.
A rightly optimized On-page SEO helps to run a successful marketing campaign. That, in the end, brings more organic traffic.
But most importantly, it helps you to rank higher on the search engine results page.
How to do an On-page SEO Audit?
For doing an on-page SEO Audit you have two approaches:
First, you can find out all the errors that are hidden in your site by reviewing all the codes in your bare sights. Or, you can take the help of different SEO Audit tools to do that.
I will suggest SEO Audit Software to do that. You can run a free On-page SEO Audit by using this tool. And you will get the comprehensive analysis report too.
After running a free On-page SEO Audit using this software, you can unlock all the issues that are important for SEO.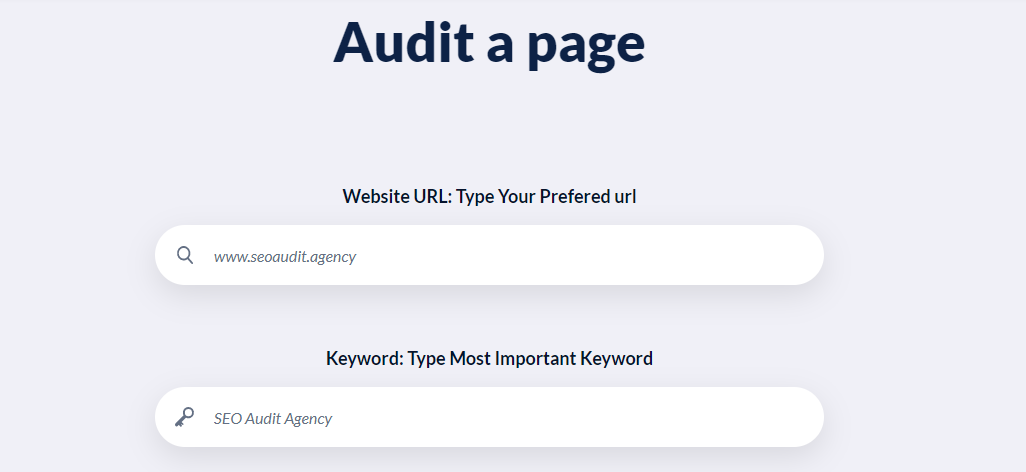 And running a technical audit using this tool is quite easy.
First, Go to home page. ( that's the place where you can run free SEO Audit)
Type your targeted page URL & keyword.
Within 10 to 20 seconds (it depends on your website server response & HTML content), you'll get a complete on-page SEO Audit report.
Now that you get your technical report, let's analyze it & get the solutions.
Some On-page SEO factors that need to fix down for improving your SEO game.
Landing page URL:
The first step of doing On-page SEO is to properly optimize your website URL. Only an optimized URL helps to improve your site's rankings. Attract more visitors, hence increase the number of traffic.
For making SEO-friendly URLs, the following steps need to be undertaken:
Make the URL short & simple.
Implement exact keywords.
Make it clear & concise.
Use hyphens to separate words. Do not smash all the words together.
Avoid underscore.
You'll get all the necessary feedback regarding your site's URL, by using our SEO Audit Software.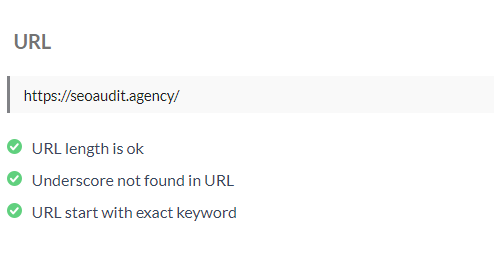 Title Tag:
After URL, the most important part of On-page SEO. This title tag/ HTML tag exists in the header part of each of the web pages. It mainly provides initial cues about what this page is all about.
Check the screenshot below. A long title focusing on the exact keywords. By reading this user can understand what this is all about. But that's not a proper way of writing a title.
You can check out what our SEO Audit Software says about this title:
So for optimizing your Title, you have to follow these:
Think about your audiences first before writing your title.
Keep the title short, simple & incisive.
Add the exact keywords.
Make the title catchy & unique so that the title has a call-to-action.
Keep the title length between 65 to 70 characters.
Meta Descriptions:
Meta descriptions play an important role here in SEO. Meta descriptions/meta tags are the descriptions that say what the page is all about. A properly optimized meta description helps to increase CTR. It adds value in improving the quality of the SERPs result. And moreover, it helps your website's organic search result.

Here you can see a meta description focusing on the primary keywords of the webpage. Although it's not a properly optimized meta description.
Let's see what the tool suggests about this meta description.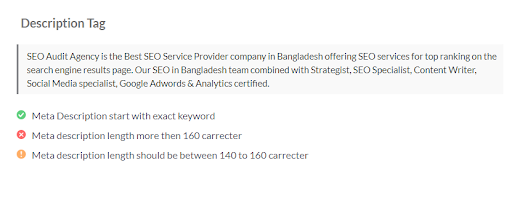 To resolve this problem, you have to follow the below steps:
Use the keywords in the meta descriptions. But don't overuse it.
Keep your meta descriptions length within 160 characters. It reduces the chance of Google Ellipsis.
Write by focusing on readers, not the search engines.
Header Tags:
Header tags serve as an important function for On-page SEO. It helps to make your content more enjoyable & easier for the user. It's like a breakpoint of your long & sometimes boring website content. You can place as many header tags as you want. But make sure those are properly enhanced.
After you analyze your site using SEO Audit Software, you will get a list of header tags that are used throughout your webpage.
To optimize your header tags properly, you MUST:
Includes Keywords in the Header Tags.
Use as many header tags as you want to give your content a structure. Here "As many" refers to as you can place H1 up to H10 tag in a content. But make sure to keep it consistent.
Keep it short & interesting.
Keep the length same as the title tag.
Images:
Images make your site more appealing & attractive for users. But only placing images does not serve the purpose. Make sure you place relevant images. Optimized images serve as an SEO asset. It provides a better user experience.
SEO Audit Software will provide you with a total list of images that are currently used on your page. Also, give you the necessary list of which images have Alt tags which are not.
So to fix those issues, what you have to do is:
Image should start with the right file name. Because Google robots don't know what image it is looking at until you name it.
Use Alt tags targeting the keywords.
Use the right format of image. Below I share some tips:

For large photos & illustration, choose JPEG image format.
If you want to make the background transparent use PNG format.
For logos & icons, use SVG format

Compressing the image size helps your site to load faster.
Only use the relevant images with the proper pixel size.
Responsive images are the key for SEO. Make sure to use srcset attributes (It makes the sizing of images much easier. As you can see a list of different version of size of the same image & can choose the one you like)
Add captions for the image. It's helpful for your visitors to quickly scan out your website.
Add images to your XML sitemaps. As it helps Google to index your images
Content Audit:
Content greatly helps you in your on-page SEO strategy. By regular content auditing, you can easily find out what your website is actually missing out.
So to be aware that your content didn't break the on-page SEO norms, follow the simple SEO rules:
Copied content greatly affects your website rankings. So make sure your content is original & authentic. So to do so you can take the help of different tools like Copyscape. Those tools will give you accurate results in terms of Plagiarism.
Use long-tail keywords & phrases in the forms of subheadings that will help in increasing the voice -search appeal of your webpage.
Write content to understand the search intent.
Avoid keyword spamming.
Internal linking helps the search engine robots & also your visitors to find out the relevant answers. So don't forget to add links to your older post from your newer posts.
Keyword Cannibalization:
If you target one specific keyword to multiple pages it causes keyword cannibalization. And that leads to disastrous consequences for your SEO. So it's important to identify whether keyword cannibalization exists in your site or not. Once identified, resolve this ASAP.
To do that, you take the help of SEO Audit Software. What this tool does is it will give a list of Top (4,3 & 2 words) keywords list that has been used in your site. You can check the keyword density & how many times it has been used in your site.
And that way you can easily avoid keyword cannibalization in your website.
HTTP Request:
HTTP requests happen when a web browser visits your webpage. And when the size & number of the file request are longer & larger in size it will greatly affect your user experience.
So to resolve that issue you have to find out your website's performance. After running an on-page audit, you will find the overall grade result of your site.
To get this report, you can check SEO Audit Software.
Here you'll get your the key metrics like
Your site's total SEO Score.
age Speed.
Total number of HTTP requests that your page is receiving.
It will help to diagnose the root problems.
Now to resolve these issues, you have to take some steps:
First, find out how many HTTP requests your site is currently making. You already get that result using this SEO tool.
Once you get an idea about how large your web page is & which file is taking more time to load. now it's time to do the following:
Reduce the file size of the images
Set your website to load Javascript files asynchronous order. What it will do it will render your site content to multiple pages at the same time. Which in the end improves the user experience of your site & reduces the bounce rate.
Every CSS file adds the number of HTTP requests. And therefore your website page speed time. So to reduce the number you can combine two or more CSS files together. Combine those CSS files that look similar.
Well as this part of the technical SEO, it will help you to improve your on-site performance.
And that's how you actually can resolve all technical problems & optimize your site's on-page performance. There are other issues involved as well. Like broken links, Page crawling & indexation, Not found & server errors etc. Here I just cover the basics to get you started for On-page SEO. SEO Audit Software helps me a lot in terms of doing in-depth analysis & writing this article. I hope this tool & article will help you out as well.