If you're doing SEO, you must know that keywords play a fundamental part in SEO.
Every second 81,988 searches happen on Google. That means per day 3.5 billion searches. People use words or keyphrases to make that search happen. Those keywords build connections between your website with the user.
So if your website is not well-optimized, it is difficult to be featured on a search engine's results page. For that matter, it's important to keep track of your SEO strategy as well as your keywords rankings.
You should know how your keywords and optimization efforts are working. For an agency like yours it becomes essential.
As search engines are the main source of traffic for the websites. Business success depends on how they rank on Google.
As you know it's a very competitive field. So for a digital agency, you must keep track of your every effort.
That's when SEO tools come handy. It is actually difficult to track & monitor every keyword everyday. But the Keyword rank tracking tool makes it pretty simple & faster for you.
It is also your best friend to impress your SEO clients & helps them to outrank their competitors.
In this article, you got to know how the Keyword rank tracking tool is a blessing for your agency. So without further delay, let's start from the beginning.

What is a Keyword Rank Tracker?
Keyword rank tracker defined as a tool that is designed to accurately track your keywords ranking positions in the Google Search engine result page.

Why Do I Need to track keywords?
Well, online presence is important to keep your business on track, And continuous monitoring & keyword ranking will help you to achieve that. As by doing so you can easily detect search trends & what your target markets actually demand.
With that knowledge you not only improve the chances of reaching out the target market online. But also it will help you to find out which market strategies are actually working which is not.
By monitoring a large segment of keywords will help you to improve your posts or update your web pages that actually are not ranking well.
We can also get a chance to know the most trending keywords of your services & products. By keeping an eye on these, you can actually gain more popularity while improving your keywords rankings. That ultimately moves your website from page two to page one of the SERPs.
All of these can be easily achieved by using a good keyword rank tracking tool. By spending less time you can find keyword statistics & more analyzing reports.

How a keyword rank tracking tool can help?
A keyword rank tracker tool makes your keyword maintaining & monitoring task so much easier. It let you monitor your Google rankings on desktop as well as mobile around the globe.
The reason why your agency need a keyword rank tracking tool is because:
It allows you to track your website's target keywords rankings in the Google top 100 organic & paid results.
Daily updated ranking data helps you to scan your optimization efforts. That results in improving the keyword rankings progress both in paid & organic search over time.
You can also know your serps competitors keywords rankings. You will get real-time competitors keyword rankings reports.
You can track your keywords at any location at any time.
Keyword tracking tool helps you to see your efforts. Whether it delivers expected results or not. By using the metrics you can easily make necessary changes by implementing specific keywords. Also by adding anchor text for internal linking to different pages improves your landing page rankings.
Keyword rankings help to find opportunities to generate more conversions through your website content. As now you know which high-converting post isn't ranked. So you can easily drive all your focus on that post to rank higher instead of those which already converts well & have good rankings
When your highest-traffic post drops from position one to page two, you are able to identify the issues & can immediately start working to re-optimize that page to recover that lost rankings. Rather spend time to find the causes of ranking loss.
And many more. But to achieve all of this you need a good Keyword rank tracking tool. Below I mentioned the elements of keyword rank tracking tools that you must examine before paying for it.
Tracking capability of the tool:
Can you track down to city/local level keyword rankings?
What is the frequency of updates of the tracking results? Daily or weekly?
Will it allow you to track down the competitors keywords rankings?
Dashboard of the tool:
Will it provide comprehensive data & metrics regarding the keyword rankings?
How well the information is presented in the dashboard as well in the report?
Notification:
Will the tool alert you about your keywords position changes?
Can you generate weekly/monthly keywords ranking reports?
Is there a white label report option available?
After sorting out the questions, it's time to explore the best keyword rank tracking tool for your agency.
SEO Audit Software: Keyword Rank Tracking Tool: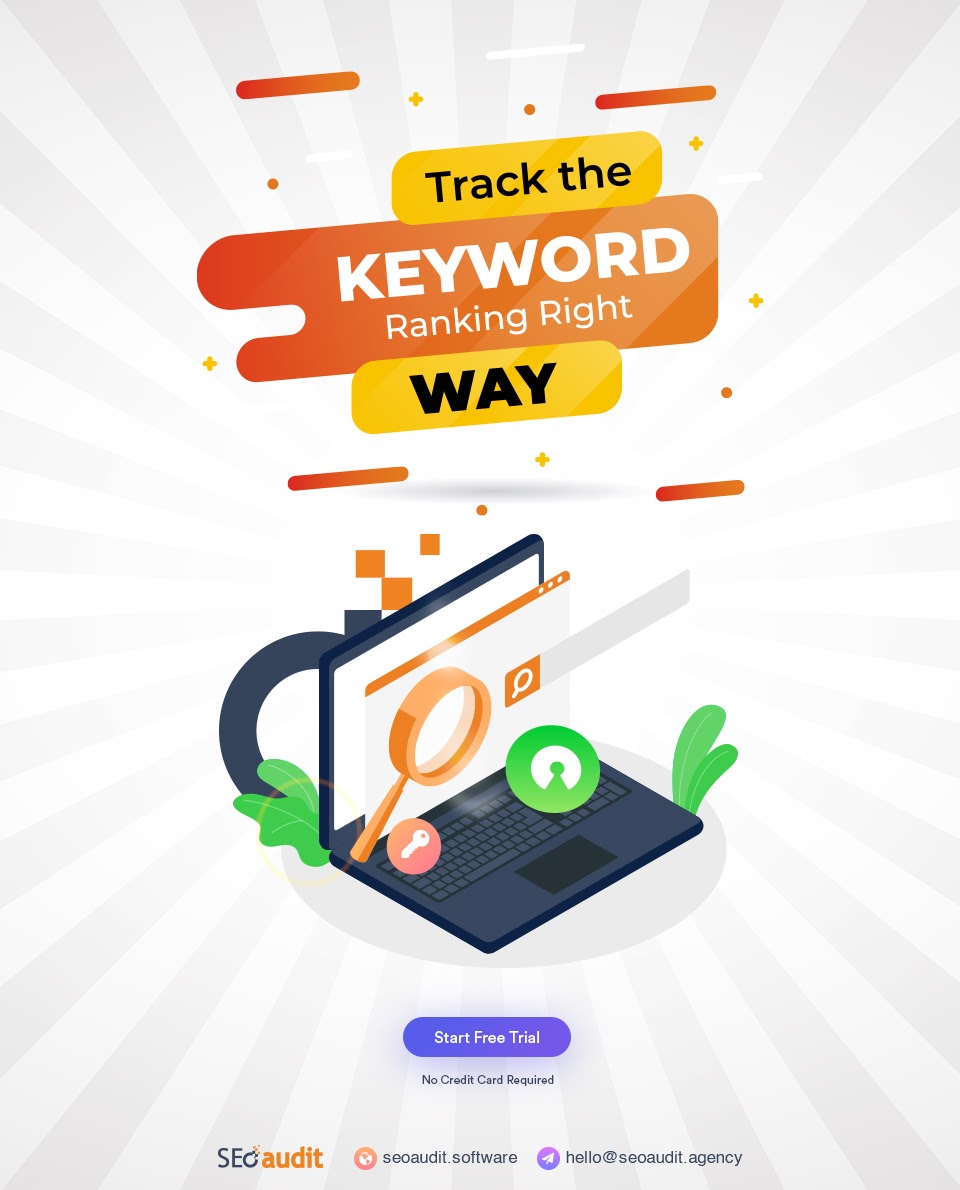 This rank tracking tool is built with focusing on comprehensive rank tracking functionality . Keywords are fetched directly from Google. So you'll always get the most accurate Google keywords ranking result.
To narrow down your selection here are some scenarios of this tool
Dashboard:
The dashboard contains all the important rank tracking data in the most convenient manner.
This position tracking tool lets you monitor national, regional & even local search engine positions for any keywords. And data you get are updated daily to show your keywords positions. It's pretty simple to use.
Once you login into the 14 days free trial version. You will get yourself entered into a dashboard
On the left you'll get a list of tools that this software has. Choose the "create a project" option. After you enter your Website title, Define the keyword group name, your website URL & the domain type.
Now you move to mention the targeted keywords of your agency. And in the "keyword tracking" you will get your result.
Keywords are fetched directly from Google. So you'll always get the most accurate Google keywords ranking result.

In this screenshot you can see the mentioning of the time frame. This time frame compares the current positions of keywords with the previous periods. For ex: This data is from March 28, So with the current data, you'll also get Mar 27, 26 & 25 day data.
You can organize all of your keywords in groups. That helps you to divide each keyword & organize them in categories, so that you never get lost.

You will get Google maps, Ads & Serps keyword ranking data
You can track keywords rankings & generate the data without spending any money for 14 days.
You can also generate white label keyword ranking reports. And with the help of white label now you can impress your clients with the up-to-date ranking report.
Here you can add up to 5 serps competitors from whom you want to get valuable search insights. With the help of data & metrics you can easily find out your gap for improvement & gain a competitive edge.
Notification Alert:
When it is time for alerting you, this tool is pretty handy, You'll get daily ranking up-drop notification. Alongside that you will notify when any of the keywords enters the top 10 positions.
Pricing:
As you already get the chance to use this tool completely free for 14 days. You have a long time to judge whether you want to use this tool or not. And for the subscription plan, this tool is kept the pricing table pretty favorable for the agency user as well as for the SEO professionals.
This tool offers three subscription plans based on the volume of keywords tracking alongside other features.


For the Basic plan, you can track 200 keywords, along with 5 competitors.
For Premium plan, you can track 500 keywords from 20 websites. And can add 10 competitors to know their keywords positions/
And lastly for the Agency plan, you'll get 1250 tracked keywords from 50 websites & along with that you can add 20 competitors for tracking their keywords positions.
This tool also gives you the opportunity to customize your pricing & features. Choose the plan that suited best to your needs.


Lastly, this tool is super easy to navigate. There are plenty of options you can choose to get your data.
If you're just starting out & have an agency, this tool is best for you. You can tailor all your keyword ranking requirements by using this tool. It will eventually value your money that you're going to invest on. And got to see how your keywords are performing.
So if you're in need of a robust SEO platform that gives rank rank tracking solutions – SEO Audit Software is the one you should go for.