Have trouble generating professional-looking website audit reports? Want a comprehensive audit report but don't have a budget for it? Then a Free SEO Audit Reporting tool is just what you need.
A report generator tool like this is useful equipment for your marketing agency. It generates free PDF audit reports that illustrate the SEO performance of your websites.
An SEO Report demonstrates the performance of your SEO efforts. Acquire valuable metrics on the approach that you took. And lastly, share recommendations on how you can improve your virtual presence.
Our goal here is to figure out what a good free SEO Audit PDF report looks like and what it includes.
What is free SEO Audit Report in PDF Format?
An SEO report guides you with the following information:
What progress you have made so far?
What tactics have been carried out and what impact have they had?
Recommendations for accelerating growth.
It's all about documenting all the key metrics that matter. So it effectively delivers progress against preset SEO KPIs.
Only a great SEO report can bring good SEO results. It is the process of displaying your search engine optimization outcomes. This practice makes your website and its assets more visible on Google.
By getting a chance to work with Free SEO Audit Reporting Tool. You will have the right metrics to get the SEO job done.
If you're responsible for SEO services for a variety of clients. You should be aware that they're expecting a data-driven SEO report from you.
By having such a tool, you not only offer them key performance indicators (KPI) in a beautiful PDF format. But also make it simple for them to obtain useful data.
No matter if it's monthly, quarterly, or annual. You are always meet your client expectation by providing them with SEO Audit Report in PDF Format.
Where you can find a Free SEO Audit Report Generator Tool?
At present, there are many free SEO reporting tools available on the market. Most SEO reporting tools give a few days as a free trial. At that time, you can use the features for free.
Some tools also provide limited free features for an unlimited time. You can analyze the market and choose what works best for you.
Here we are suggesting you SEO Audit Software Reporting Tool. Using our software, you can customize the report in multiple ways.
Not only that, there is 14 days free trial period. During this trial time, you can use this software's all premium features. After the trial period, you even stay with the free version forever.
Free forever offer a 100-page technical audit chance. After the audit, you can even generate a data-driven beautiful PDF report. Completely free.
What's more?? Let's find out.
What you will get from it? (The features of Free SEO Audit Report)
There is no way to think that if you are using it for free you will have to settle for less. Even the free website audit report tool gives a series of updates and insights. Such as:
SEO Reporting Metrics:
The report should comprehensively tell about the websites' on-page & off-page SEO scores. These metrics can be used to decipher the hidden indications – that the online traffics and their behavior gives us.
Numbers don't lie. The score of the website is vital for you to make a statistical decision. Metrics such as,
Page Speed
Page Load Performance Activities
List of Error Requests
HTTP Requests & Content Breakdowns

Image Requests
JavaScript Requests
HTML Requests
CSS Requests

On-Page SEO Statistics

Total words on the page
Total characters on the page
'nofollow' meta tag
'noindex' meta tag
Canonical URL
Inline-style

Website URL Analysis
Title & Meta Tag Analysis
Image Analysis
H-Tag Analysis
Most Important Keywords used on the page
Internal & External Link Analysis
Clean UI for Quick Info:
We know you're extremely busy. You want quick and easy access to critical information. Which will demonstrate the effectiveness of your efforts.
That's our goal here as well. SEO Reports UI gives you an overall succinct view of your SEO effort.
No unnecessary graphs or diagrams here and there. It's easy, understandable, and written in human language. So not only the SEO professionals, but your clients also easily understand the SEO growth.
Updates of Website Health:
A good white label SEO report shows the fitness of your website. Whether the visitors are engaging with it or not.
Inch by inch analysis of your website needs crawling the site thoroughly. An ideal SEO reporting tool performs such an analysis on your behalf.
Here's a screenshot of it.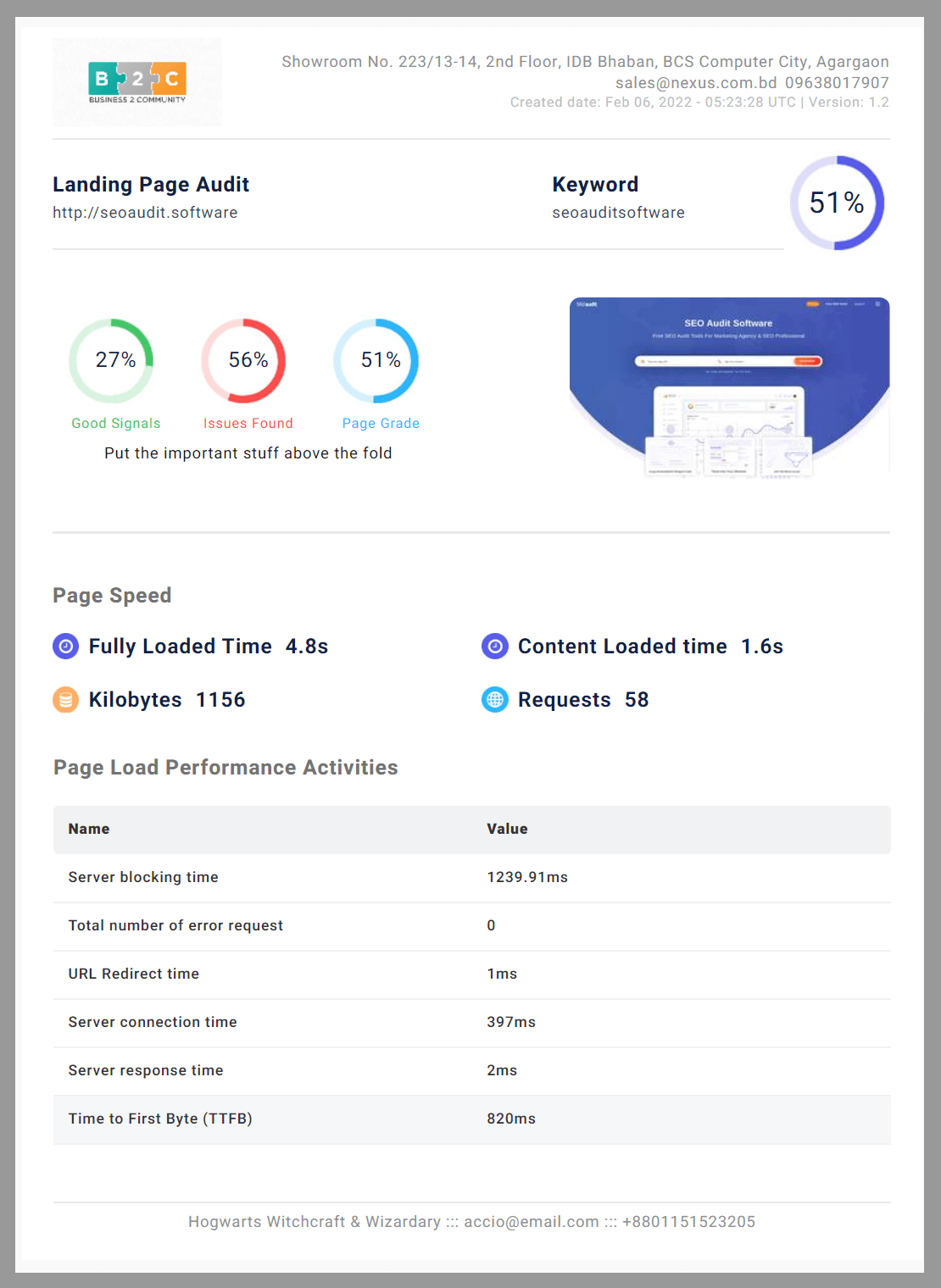 Any reporting tool you use must ensure that it contains all the metrics that matter. It might be vary depending on industries. The metrics the SEO report contains should indicate your progress, success, and actions. And Free SEO Reporting Tool is very good at doing that.
By the screenshot, you will see how comprehensive that report is. It covers everything you need to know about your website health.
⇨ Page-Level Analysis:
SEO reporting demands page by page analysis of the website. Otherwise, it will not be considered favorable and justified reporting. And will lose its usability. So this tool shares a true picture of your web page. Anyone who goes through it will easily understand the issues the report addresses.
⇨ Analysis of Title and Meta Description:
Title and meta description is the face of your web page. If they are not engaging enough then the whole content will be ignored by the visitors.
That makes a website weak and less useful. SEO reports contain feedback considering the title and meta tag analysis. Tools give feedback about its performance according to SEO.
⇨ Image Analysis:
Get down to the microscopic level image analysis in the thorough report.
The SEO reporting tool will provide you with a detailed list of all the images used. You will receive a list of images, each with its own Alt text, URL, and Size. It will show you all of the issues found in the image file. As a result, you can properly optimize them.
⇨ Get the total external & internal link report:
Links, as we all know, are the foundation of Google ranking. It's where the organic search begins.
This SEO Reporting tool covers all the detail of your page's internal & external links that you need.
It gives a basic overview of the types of links you have. Such a detailed list displays Anchor Text, Rel attributes, URL, and so on.
The best deal comes free:
The best business deal starts with winning a bargain. In this highly competitive era, everyone is desiring to be as cost-efficient as possible.
The more you save from your cost the more profit you earn for yourself. But that doesn't leave room for compromise on your service quality.
And if you are determined to prepare the best white label SEO audit report for your client. Then there is hardly any chance to waste your time and money.
In this scenario, free trials of white label SEO audit tools can lessen your worries. This reporting tool provides white label SEO reports free of cost for a reasonably limited period.
Features like:
Branded reports
Customization
Comprehensive
Downloadable in PDF format
All you can get without spending a penny.
Turn to White-label Feature:
SEO reporting is an important aspect of the SEO process. But it rarely includes options for including your own brand logo on your own. Or your clients' SEO reports.
But SEO Reporting Tool doesn't disappoint you. You can customize your SEO reports however you like. Demonstrate the success of your SEO efforts, with the in-depth website status report.
Browse the SEO Audit Software White Label Settings. And start creating unique white label SEO reports in minutes.
You can add your business logo within the supported image file format.
You can add your business's important information. Such as:

Business Name
Phone No
Email Address
Address
Footer Content

You can even configure the SMTP settings. And can send branded Audit PDF Emails to any client.
Only present metrics that matter:
SEO Reporting Tool offers reporting metrics configuration option.
What it does. It helps to show or hide the metrics on the report.
As a result, you can only display the stats that are relevant to your company. After the configuration, generate the report. Ignore others.
That way you will get an SEO report just the way you wanted it to be.
Include the most important SEO Key metrics and display them in a customized, visually appealing way.
Transform your report into a PDF and wow your client.
All Audit Reports under one roof:
Yes, saves time on manual searching. By going to SEO Audit Software → My Audits. You will find all the generated audit reports. The reports are organized based on creation date, URL, keyword. From here you can view the report. Download it in PDF format. Or even delete it.
How to Generate a Free SEO Audit Report in PDF Format?
The user manual of the Free SEO Reporting Tool is so simple. I'll show you how to generate a Free SEO Audit Report in PDF Format. In just 4 simple steps.
Step -1:
To generate an SEO report, you must first log in to this Software and create your profile.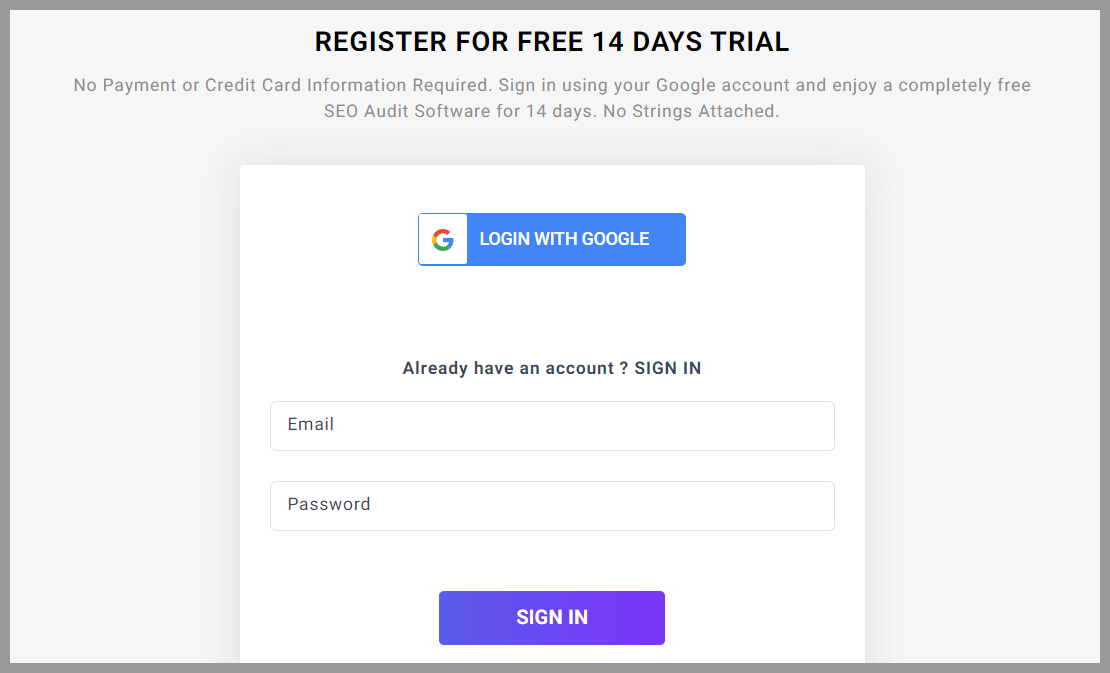 After you've signed up, do a free website assessment on your own or your clients' sites. You must provide the website URL as well as your important keyword to do so.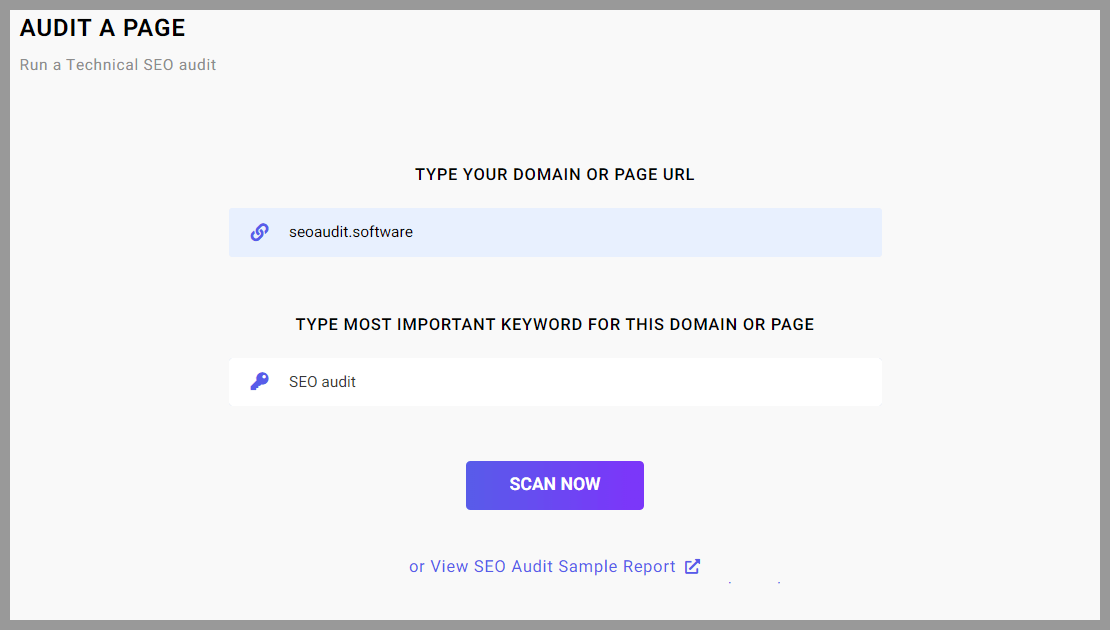 Step – 2:
This tool begins to examine the keyword and websites that have been entered. You will receive a full analysis report in about a minute (usually 20 seconds).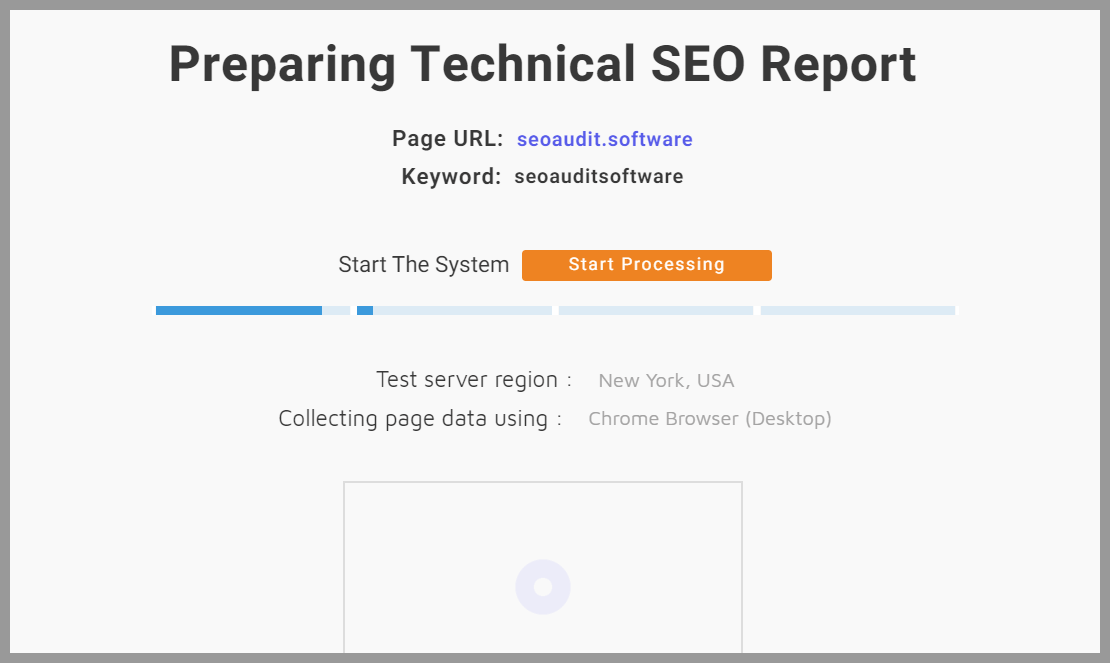 This tool helps you to analyze all the underlying flaws of your website.
That's how you'll get an SEO report card with a detailed analysis. You will be given detailed instructions on how to correct the faults. That makes it easier to figure out what's causing your traffic rankings to suffer.
After you've completed the auditing, you may begin customizing the report.
Step – 3:
Go to the White Label section to give it a branded look.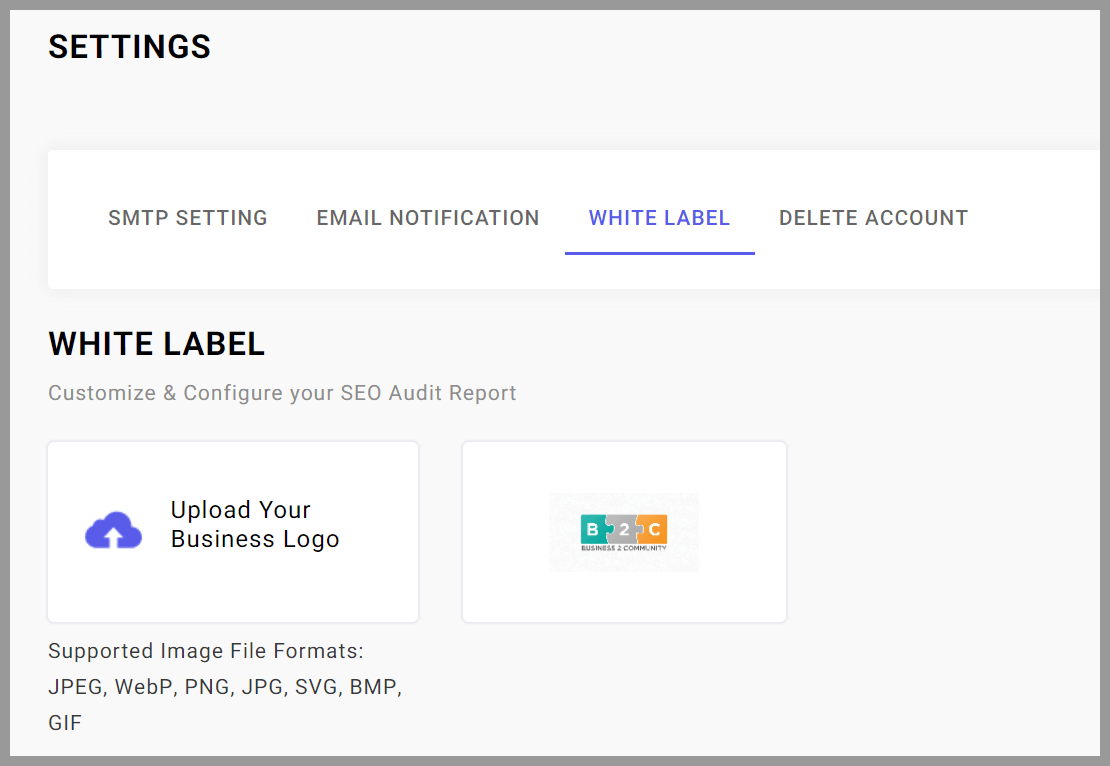 You will get a chance to customize the look and feel of the report. Simply submit your company's logo and details ( name, phone number, header, footer text).
After that is done, download the PDF report to show it to your clients. Or, share them via email.
Step – 4:
PDF report download option available within the report. Or you can download it from the My Audits section.

From the report itself, you can even share with anyone. You can share single or multiple people at the same. Just enter the email address and share the PDF SEO Audit report.
And that's how you can generate Free SEO Audit PDF Report in a minute.
The Benefits of Free Website Audit Report Tool:
Different SEO agencies and marketers are enjoying the sweet fruit of providing SEO audit results to their clients. It is useful and cost-free. The following benefits of such a tool make it worthy.
Free of cost:
The best things in the world are free. At least in the beginning phase. Reporting tools won't cost a penny for their services. Most tools and software offer 7 days of a free trial. But SEO Audit Software offers 14 days free trial. And there is a lifetime free version as well.
The impressive offer of a free trial for 14 days is not only what this software has to offer. As I have mentioned earlier. This software has been developed keeping entrepreneurs and agencies in mind.
So it has segmented its packages in such a way that complements the agency's branding needs.
This software has the three following packages for your best consideration.
Silver:
Strongly recommended for freelancers. Started at only $19/month.
1000 technical page audit with full white label facility. It contains:
Branded Audit Report
100+ on-page SEO Factors analysis
Client Email Configuration
Download & Print PDF report
Gold:
Best for teams. Those are working to create quality white label SEO audit reports for their clients.
It contains an increased number of technical page audits up to 2500. And with the consistent service of:
Technical Page Audit
White-label Reporting
White Label Lead Generation
Keyword Rank Tracking
Competitor Rank Tracking
Worth $29/month only.
Platinum:
This particular package is dedicated to heavy-duty users of white label tools.
Agencies who work for auditing and reporting for a number of clients at a time. Expect some level of technical and financial flexibility from the tool.
SEO audit software gives you that in their platinum package. An agency will get a 5000-page technical audit benefit.
With the prevailing service of:
White-label SEO Audit Reports
Embed SEO Lead form
Daily update on Keywords
The platinum package will cost you $39/month only. In my opinion, that's a simple price to pay for a strong reporting tool like this.
You can save up to 3000 per year.
Instant Audit:
Using such auditing and reporting tools, analyzing the SEO activity of multiple websites is a matter of seconds. You just have to input the website URL and keywords to begin the audit.
Complete scan:

This tool runs a 360-degree scan on websites whenever you command for a report. It crawls and analyzes inch by inch. To provide you with an SEO report that will contain facts and statistics. So that you get evidence for every piece of information.
Simple reporting:

A report should be understandable to its users. Because if they don't understand the report then it will not be of much use.

Starting from the MD of the company to IT expert to mid-level social media manager. Everyone has a different level of understanding ability. That's why the reports should be easy to understand.

These tools represent a report in the easiest way and language. Graphical representations, parameters, scores. And side by side shows every performance of your website.

Anyone can understand them at a glance. It lessens the confusion and saves time.
Customization is done in a minute:
White label in any of your reports within a minute.
This tool allows you to try various customization options. You can add a logo, information, and footer content in the audit report.
You don't have to sit down fixing teeny-tiny details of the SEO reports. This reporting tool will handle everything for you.
You can clone the white label reporting option for every client. No matter it is 5, 40, or 100. Add a personalized comment and insights to each of the reports.
Using the white label feature you will give the SEO report your unique branding touch. Just like your business.
This SEO Reporting Tool has everything to create simple, effective, and beautiful SEO reports.
This too shows how to effectively grab the attention of your clients. By seeing the completely branded report, your client will surely appreciate your hard work.
There's no need to white-label each report separately:

This tool is developed by experts and it shows in the design. It is highly organized and user-friendly. As a result, you can navigate the tool smoothly.

Once you configure the white label option. No need to input every branded detail separately in each report.

All reports will stay consistent in branded nature. Giving you a seamless white-label experience.

You can omit seeing information that is needless for you. You can prioritize the information on the report as per your liking. The configuration panel is designed to be user-friendly.
Download Insightful PDF Report:
Not only you can generate white-label reports online. But also download and share PDF reports with your client.
Without wasting unnecessary time on manual reporting. Try and create PDF reports with SEO Audit Software. It helps you automate your reporting and analytics.
You can manage, create and share custom SEO reports in just a few clicks. No there is no drag & drop option available. But the user interface is so simple to use that you don't need such an option at all.
Such reporting features elevate your SEO performance. Build a strong communication bonding with clients.
Next time you don't need to rely on any agency for generating such a powerful report.
Paying for White Label SEO tool is not an expenditure, it's an investment.
Now, after a free trial, let's get down to business. Do you believe you can generate SEO Audit Report without professional help?
Agree with this. It will cost you in one way or another. And errors can cost you far more than money.
Considering free SEO Audit Reporting tool is great to start with. It helps you introduce the powerful reporting feature. That you won't know otherwise.
Spending some on the right SEO audit reporting tool can save you money. And reputation. All the good things in the long run.
Final Words:
The free SEO Audit report tool is a blessing. Blessing for small agencies, digital marketers, SEO experts, and freelancers. Those who have just begun to report website audits.
Small agencies and newbies won't like to spend much. They constantly looking for free options. Tools like SEO Audit Software can be the best pick for them.
So, invest some time in it and find out what works best for you and your agency.